Training

Planning for Autonomous Mobility
- 2023 Edition -


17 October – 08 November 2023
The rapid growth of new technologies, on the one hand, and the increase in demand for safe, clean, comfortable, efficient, and sustainable transportation, on the other hand, stimulated the advancement of autonomy and full automation in the transport sector. It became an impetus for the development of autonomous vehicles. The created niche in the transport sector brought new challenges as well as opportunities that need to be properly addressed and embraced.

The International Road Federation, FACTUAL, and EIT Urban Mobility are pleased to organise the 3rd edition of the online training Planning for Autonomous Mobility, kicking off on 17 October 2023.

This training will tackle various aspects of autonomous vehicles to encompass the new mobility demands and utilise utmost the advantages that autonomous vehicles bring to society and businesses. More specifically, the training will equip the participants with knowledge on all relevant features of the autonomous vehicles, how they impact the urban landscape, long-distance travel, logistics, economy, sidewalk management, etc., and purvey tools that will help the participants of the training to solve the future challenges that autonomous vehicles will convey.

This course is open to everyone, professional or not, with interest in the mobility sector, willing to deepen their knowledge, skills, and abilities to enhance their technical, business and professional competencies in autonomous mobility.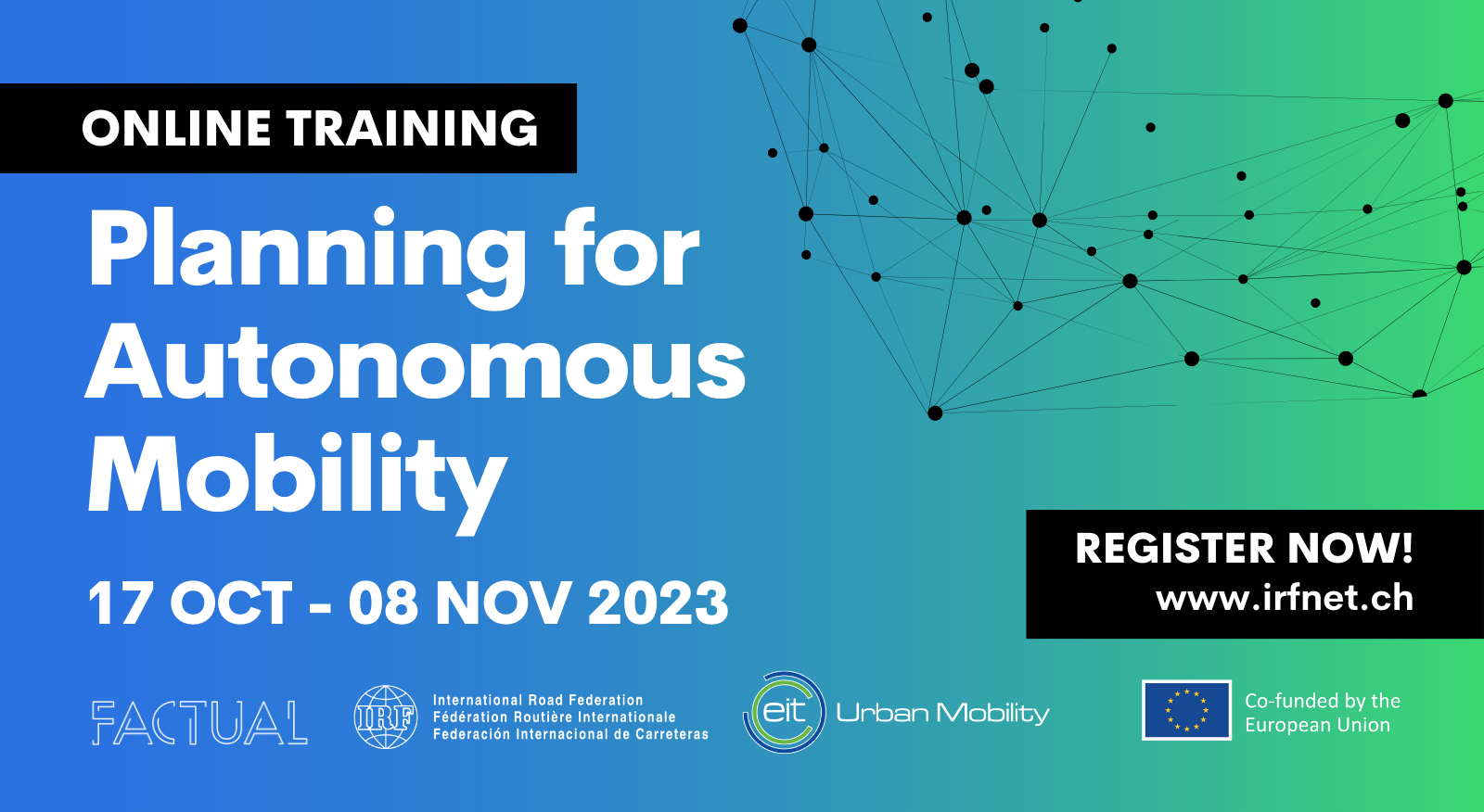 Participants in the course will receive a certificate of attendance on completion.


The planned training will be structured in five online sessions of two hours each (excluding the introductory and networking sessions). In order to provide a fully online yet interactive experience, different learning methods will be used by top-level speakers, such as keynotes, workshops, roundtables, and case studies. You will find below a detailed programme.

For this year's edition, participants are welcome to bring mobility challenges they have encountered. The challenges will be discussed in the last workshop session.
Bonus Track: Networking Session at Tomorrow.Mobility in Barcelona
Optionally, interested and available participants will also have the opportunity to attend* the Tomorrow Mobility World Congress in Barcelona, co-organised by the EIT Urban Mobility, for a networking session with the training's organisers.

*Note: The organisers will provide participants with free tickets to attend Tomorrow.Mobility. Participants are responsible for all other travel expenses.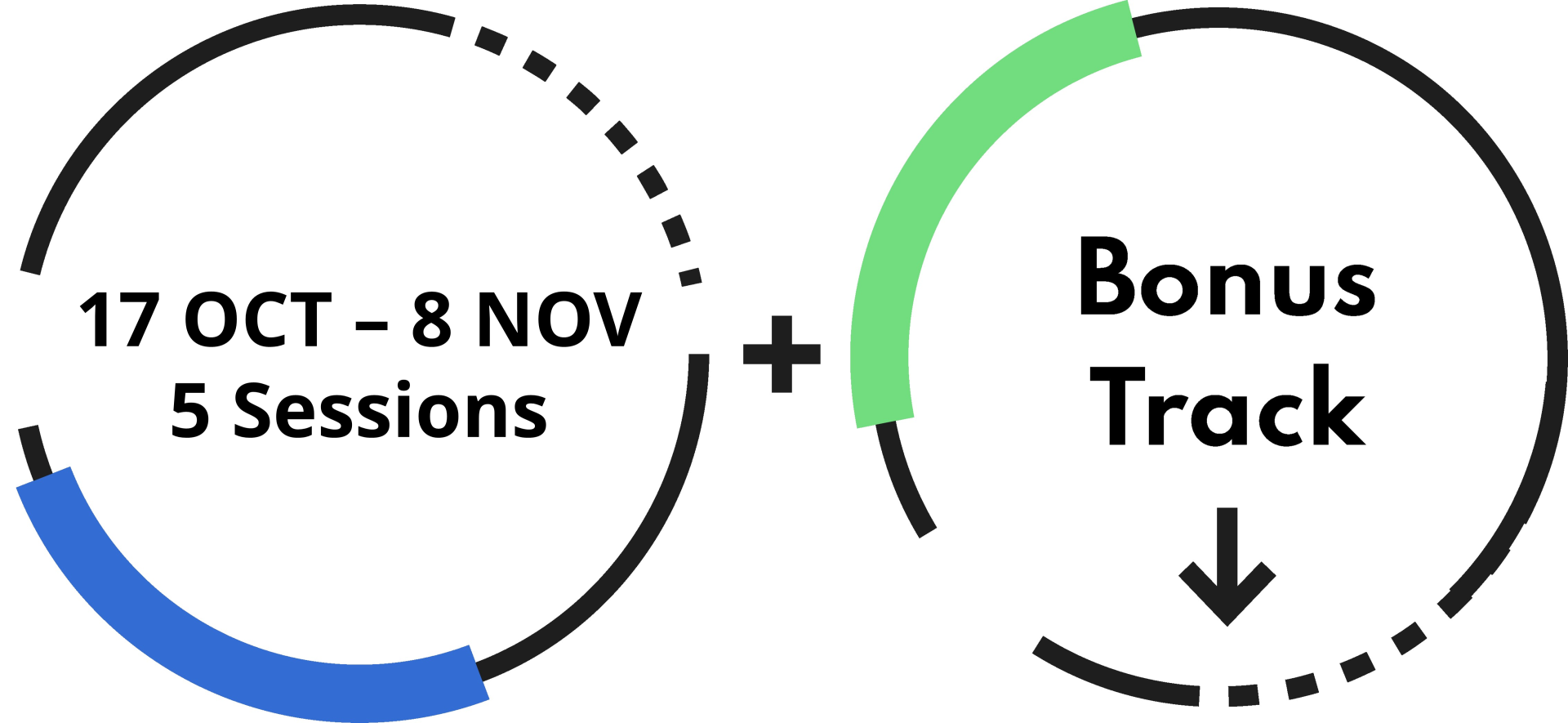 COURSE OBJECTIVES
This course aims at providing a comprehensive outlook on the current and future opportunities for autonomous mobility, engaging the most relevant stakeholders.

Participants will be able to discuss with top experts in the field over the main topics of autonomous mobility and, we will work together on an online workshop in which participants' challenges will be brought to the room.

The training modules will offer a comprehensive and detailed vision on autonomous mobility, focusing on:
Offer a general overview of the context, challenges, and opportunities that autonomous mobility offers
Understand the major long-term impacts of autonomous mobility in several areas, including its planning, transport services and infrastructure, the industry and labour markets.
Give an
update on the technological and regulatory state of the art
of autonomous mobility, its status of implementation worldwide, and identify the main barriers
to its development.
Analyse how to manage the transition from current mobility to the arrival of autonomous vehicles: how should the different stakeholders prepare for that?
PARTICIPANT'S PROFILE
This training targets a broad range of mobility professionals, identifying five priority profiles:
Mobility and infrastructure planners, who will be in charge of managing and planning the integration of autonomous vehicles (AV) in the current mobility ecosystem (new legislation, new infrastructure, etc.)
Transport operators, who will have to adapt their operations to the arrival of the related autonomous the technologies.
Automotive and mobility industry managers, who will integrate the autonomous technology in their vehicles and will have to transform their operations and foresee potential business models.
Mobility research centres, who will be working on a steady improvement of the autonomous technology.
Non-mobility professionals interested in the impact of AV on society and the economy.

Note: Participants will not be required to have specific previous education in the AV field.
The course will be structured in 6 different sessions (excluding the introductory and wrap-up sessions) of 3 hours each.
Introduction
Training presentation, objectives, and contents.
AVs Technological Readiness
Overview of technological evolution, the role of infrastructure, and how an ecosystem (industry) is created to boost its implementation.
Regulatory Aspects & AVs in the Mobility Ecosystem
How local, regional, and state authorities should prepare to accommodate the arrival of the autonomous vehicle.

Workforce Challenges
The challenges of autonomous mobility regarding new skills and the workforce
Urban Landscape
How the autonomous vehicle will impact the urban context beyond mobility (vehicle ownership, logistics, social, digital, labour context).

Integration of Autonomous Shuttles in Public Transport
Best practices on integrating AV (shuttles) into the Public Transport system.

Case Studies and Operators
Case studies: best practices around the world (either as a roadmap for cities or for countries) that are introducing autonomous technology.
Operators' perspective on the deploying of Autonomous Mobility.
Long-Distance Travel and Logistics
Analyse its impact on long-distance travel (pleasure or business), logistics, and the new infrastructures that will be needed.


Case Studies and Operators
Case studies: best practices around the world that are introducing autonomous technology.
Operators' perspective on the deploying of Autonomous Mobility.
Workshop
Workshop session based on participant's challenges on AVs


Wrap-up session
Optional Networking Session at Tomorrow.Mobility World Congress 2022 in Barcelona (Spain)
Some of our speakers
Our experts, coming from various organisations, academia, and industries, are well-equipped to provide hands-on training on various aspects of autonomous mobility: technological, regulatory, economic, social, etc. They have proven track records of professional experience in leading multiple projects related to autonomous transport under their belt. They are cutting edge professionals who are willing to share with you their practical and theoretical experience to amplify and enhance your knowledge in autonomous mobility so that you are ready and well-equipped within your organisation to face the challenges and embrace the opportunities that autonomous mobility brings into our society.
Luciana Iorio

Chair
UNECE Global Forum for Road Traffic Safety (WP.1)
Bin Ran, PhD
Director of Connected Automated Transportation Programme
University of Wisconsin
Bryn Balcombe
Founder
Autonomous Drivers Alliance (ADA)
Dr Clarissa Han
National Leader, Sustainability & Resilience
Australian
Road Research Board (ARRB)
Rik Nuyttens


European Regulatory Affairs Manager
3M Transportation Safety Division
Prof. Andreas Herrmann
Director Institute for Mobility
St. Gallen University
Daniel Lenczowski
Sales Executive – CCAM
SWARCO
George Ivanov


Head of International Policy & Government Affairs
Waymo

Clement Aubourg
Head of Autonomous Vehicles
New Mobility Services, Keolis Group
François E. Guichard
Secretary
UNECE on Automated/Autonomous and Connected Vehicles (WP.29)
Gummada Murthy

Program Director,
Operations Safety and Mobility Division AASHTO
Laura Coconea

Innovation Office Manager,
ITS Division
SWARCO
Bern Grush
Funder & CEO
Harmonize Mobility
Raj Ponnaluri

Connected Vehicles, Arterial Management, Managed Lanes
Florida Department of Transportation
Daniela Bremmer
Development Manager
Cooperative Automated Transportation (CAT)
John L. Hibbard


Director of Operations
Georgia (USA) Department of Transportation
Thomas Kern


Senior Consultant
AASHTO

Tony Kratofil


Chief Operations Officer,
Michigan Department of Transportation

Benoit Perrin


General Manager
EasyMile

Luc Texier
Strategic Partnerships
ZF Group
Gonzalo Alcaraz
Deputiy Director General
IRF
Bryant Walker Smith
Associate Professor of Law
University of South Carolina