Online Training

21 November – 30 November 2023

Master Key Data Spaces Concepts
Explore EC Initiatives shaping Data Spaces
Unlock Data Sharing Secrets
Discover top mobility data projects.
Seize Opportunities and how Data Spaces can revolutionize intelligent transport systems and urban mobility.
Real-World Scenarios to harness Data Spaces' potential in mobility.
Roadmap Creation on Mobility Data Spaces.
Price of the course: 200€+VAT
Participants in the course will receive a certificate of attendance on completion.


Want more information?

Drop us your email and we'll get back to you shortly.
Empty space, drag to resize
Some context on Data Spaces...
The European Commission has created the European Strategy for Data aiming at creating a single market for data to ensure Europe's global competitiveness and data sovereignty. Common European data spaces will ensure that more data becomes available for use in the economy and society (flowing within EU and across the sectors) to foster innovation activities and, at the same time, keeping companies and individuals who generate the data in control (compliance with the GDPR).
According to Gaia-X, the European entity that gather different stakeholders with the objective to create a federated and secure data infrastructure ecosystem in Europe, the term "Data Space" refers to a type of data relationship between trusted partners, each of whom apply the same high standards and rules to the storage and sharing of their data.
To this regard, the EC is working on 9 initial Common European Data Spaces, including a mobility data space, aiming to position Europe at the forefront of the development of an intelligent transport system.
The transition to the Digital Economy requires investment to upgrade technology, but also to increase knowledge to support informed, strategic decision making. This course will upskill the participants to take full advantage of the opportunities offered by data-based business models underpinned by the novel concept of Data Spaces, providing basic data literacy and understanding of the technical, legal, and legislative context at European level.
Instructional materials +
3 online sessions +
1 final workshop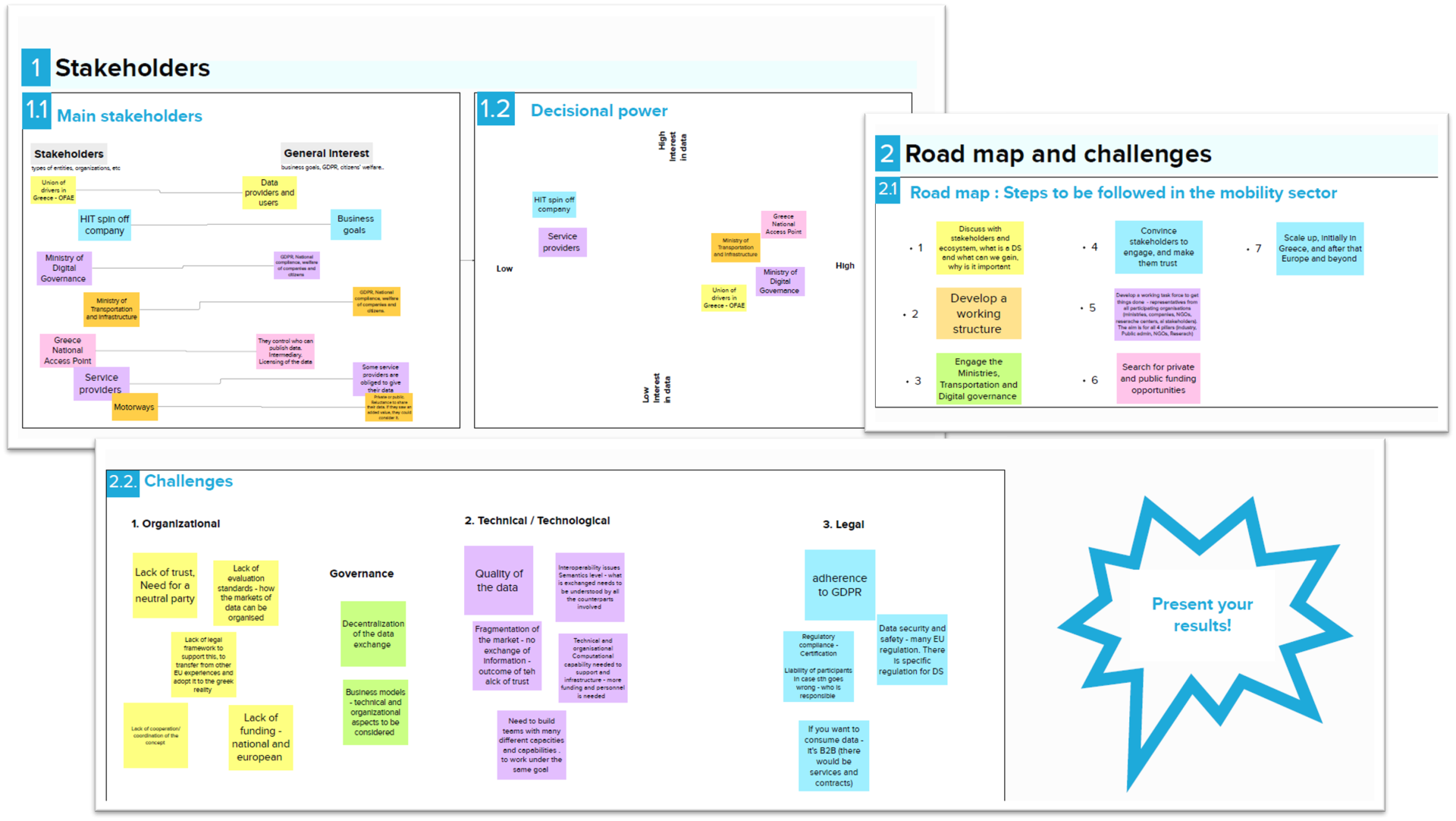 This will be an online course that will combine theoretical knowledge and literature made ad-hoc for this course, with a series of sessions with top speakers in this field:

1. Introductory sessions to the course, which will be offered through our Factual Academy with updated instructional materials, including documents and theoretical reports on Data Spaces.

2. Live online sessions, with the participation of industry experts. You will be able to discuss with them your doubts and challenges on this topic!

3. Final workshop session in which participants will work in a collaborative way in the co-creation of a potential Data Space framework!
COURSE OBJECTIVES
The main learning objectives of this training are the following:
Acquire knowledge on the main concepts related to Data Spaces
Get an overview of the EC initiatives framing the proposal for creating Data Spaces
Understand the relevance of transparent and secure data sharing environments in different mobility areas
Identify the most relevant existing mobility data projects in the mobility sector
Understand the potential and opportunities for leveraging Data Spaces in intelligent transport systems and urban mobility
Identify and evaluate use cases and scenarios to unlock the potential of Data Spaces in the field of mobility
Define a potential roadmap for the implementation of Mobility Data Spaces
PARTICIPANT'S PROFILE
This training targets a broad range of mobility professionals, identifying the following profiles:
Professional mobility experts (public bodies, private operators, etc.) with a strong background in the mobility planning, operations, data and management .

Note: Participants will be required to have a previous education on the technical area (i.e., transport engineers) or in the business field (or similar). Previous education on digital technologies will not be required.
The course will be structured in 2 different modules, combining asyncronous and live sessions.
Module 1: Introduction to Data Spaces


Introductory module through which documents, reports and relevant material will be provided to the participants.
Topics that will be covered:
European Commission's strategy for data and vision on Data Spaces
Relevance of secure, trustable, and interoperable data environments
Potential case studies to be underpinned by Mobility Data Spaces

Module 2: Data Spaces in the mobility sector (Live online classes)

21 November (14:00 - 16:00 CET)

Live online sessions with top experts in the field (9 hours) aiming to understand the opportunities that Data Spaces offer in the Mobility field
Topics that will be covered:
Introduction

Value chains involving mobility data exchange
23 November (14:00 - 16:00 CET)

Topics that will be covered:
Types of mobility data to be shared and potential applications
Personal data protection and sovereignty
28 November (14:00 - 16:00 CET)

Topics that will be covered:
Technology framework and principles underpinning Data Spaces
Current on-going projects and initiatives in the field of Mobility Data Spaces
30 November (14:00 - 16:00 CET)
Workshop
How to create a Data Space
Scenarios for potential use cases
Tu-Tho Thai


Manager, Projects and Partnerships at ITxPT
Ferdinand Burgersdijk
Founder of FairsFair
Rizkallah Touma, Ph.D
Big Data Research Lead at i2CAT Foundation
Paul Theyskens


Wg Leader - Technology and Standards at MaaS Alliance
Josep Laborda


CEO & Managing Partner at FACTUAL
CERTIFICATE OF COMPLETION
At the end of the course, each participant will receive a certificate signed by the course organizers that can be printed or added to the LinkedIn profile.